Category Archives:
All Events
Events at the Rocket Complex
The epic London Met End of Year Party returns to The Rocket Complex on Friday 1st June 2018, from 8pm-2am.
Grab your cheap advance tickets from The Rocket or online here and enjoy A FREE DRINK AND A FREE BBQ DINNER!
On the night:
– free drink token
– free BBQ dinner, punch bar and DJ in the tropical courtyard
– retro arcade games
– karaoke room
– casino room with free fun money
– London Taxi Photo Booth with free printouts
– chocolate fountain with free dippin' foods
– DJs and dancing 😉
ADVANCE TICKETS: £5 Student | £6 Guest
PRICE ON THE DOOR: £7 Student | £8 Guest
Tickets available from The Rocket and online here.
BUY EARLY TO AVOID DISAPPOINTMENT!
London Met students can bring up to two guests.
Proof of age required | Last entry STRICTLY MIDNIGHT
No re-admission
London Met students must bring uni ID card
Guests must bring Photo ID
Terms & Conditions are available on our Eventbrite ticket and Facebook event pages. 
We have a couple of great Halloween events coming up next week at London Met.
Tuesday 24 October
First up is 'Sew Spooky'… an event where you can swap your old Halloween costume to get a totally new one, upcycle an old one, and learn to make-do-and-mend! Click the link to register for a free ticket. Places are limited so hurry!
Wednesday 25 October – Haunted Halloween Frat House!
It's the big party you know and love at London Met… it's Frat House! But this month something weird is going on… the house is HAUNTED?!?!?!
Will you be brave enough to investigate??
We'll have:
Bloody beer pong (free) from 9pm–10pm
Best dressed will be crowned King and Queen of the Damned at midnight
Mummy wrapping contest, gunge lucky dip and toxic apple bobbing
Devilish DJs and demonic dancing all night
Tickets are £3 Metcard, £4 any student, £5 guest.
London Met students can sign in up to two guests.
Last entry strictly at 1am.
Guests must have photo ID for entry.
See on the dance floor, we're off to practice our Thriller moves…
It's coming… the party you've been waiting for… #LondonMetFreshers
Tickets and all event info here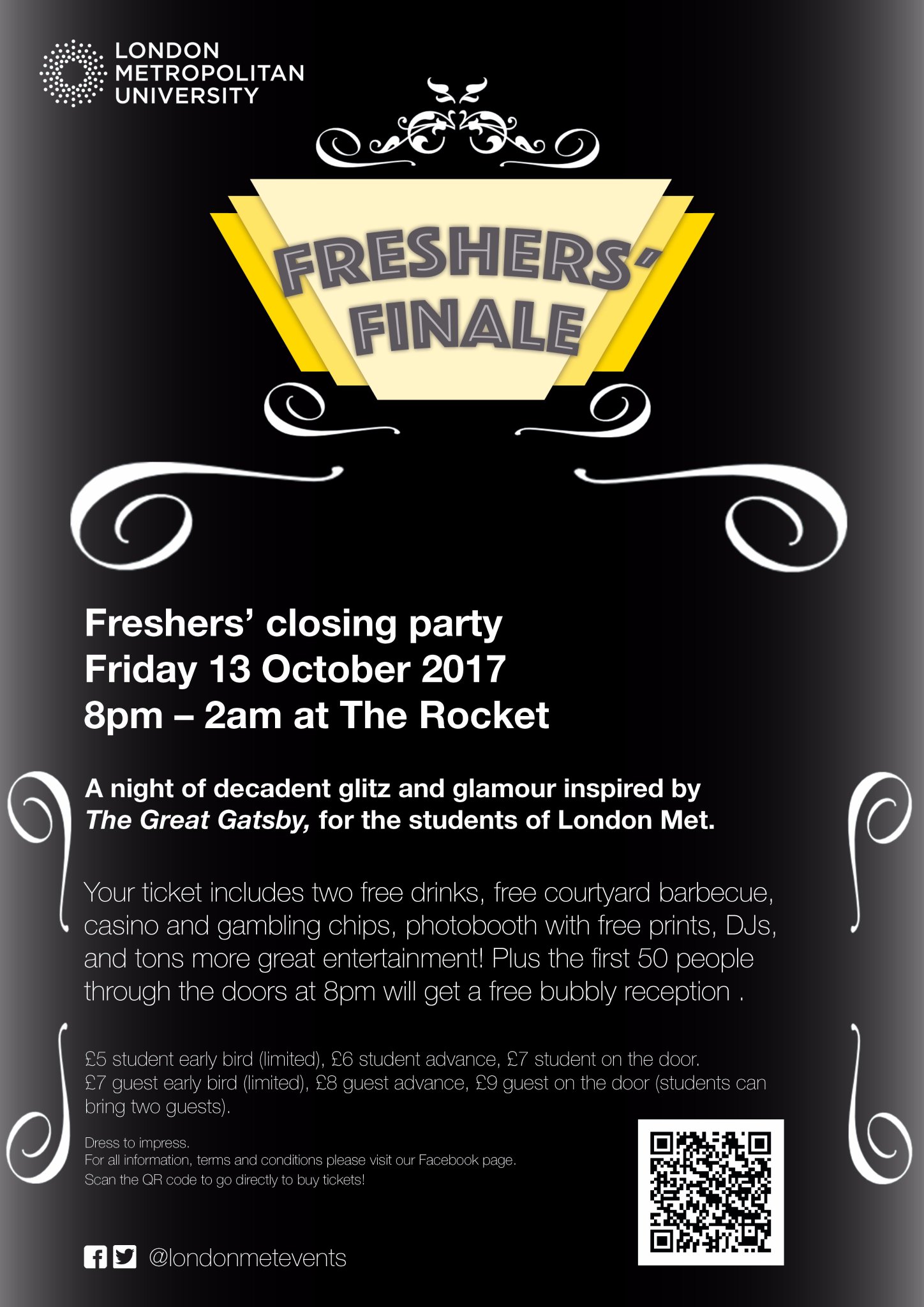 London Met's freshers activity starts on Monday 25 September 2017.
There are two weeks of amazing events and entertainment, followed by a huge closing party on Friday 13 October, the 'Freshers' Finale'. We also hold two Freshers' Fairs at Holloway and Aldgate campus. There are events of all kinds and for all tastes, see the events calendar below:
Our two Freshers' Fairs are held in Holloway campus on Thursday 6 October (held in The Great Hall and The Rocket building), and in Aldgate campus on Friday 13 October (at The Wash Houses).
Most events are free for Freshers, you can get a free entry wristband from our student venue The Rocket, or from our events team at enrolment around the different campuses.
All the most up to date info will be on our Facebook and Twitter, so say hello and keep in touch!
Look out for the hashtag #londonmetfreshers for all the photos and latest event info, and use it yourself when posting any photos! .
Our fave student event of the year is back!
Friday 26 May – 8pm until 2am, at our very own venue The Rocket Complex.
All details on our Facebook. Headline news is that you get TWO free drinks and a FREE BBQ dinner with your ticket!
Buy tickets in advance here. Buy early to avoid disappointment… and it's more on the door too!
Show us your superstar potential at the awesome Rocket Karaoke and Easter party. Throw on your Easter attire and get in front of the glitter curtain to strut your stuff… all the classics will be available for you to sing your heart out to. Drinks voucher prizes for good and very bad singers!
Free entry for London Met students, other uni students and guests. All students must have valid student ID cards and guests must have valid photo ID for entry.
London Met students may sign in up to two guests.
Term is winding down, but we're ready to let loose with some Spring Break vibes!!!
Let the music play and enjoy an unforgettable night at our Spring Break Neon Party. Great tunes and special offers on drinks.
Neon painting, fun games and special prizes, all in one fantastic night. Get your tickets now, as this party is a guaranteed sell out!
London Met students can sign up to 2 guests.
All students must have valid student ID cards, and all guests must have valid photo ID. Last entry at midnight.
Another chance to sing your heart out and be a superstar for a night!
All details on Facebook here.
A big welcome to all new and returning students awaits on Friday 10 February at The Rocket!
It's going to be a great night with cocktails, bubbly reception, DJs and dancing. A perfect chance to unwind with old friends after the holidays, and make new ones 🙂
Two for one cocktails starts at 6pm so get down early!
Most up to date information is on our FB. Follow us for all the latest information about events around uni, tips, tricks and gossip!